Jenny Holzer's Comcast Capitulation
At 60 stories and 1,121 feet, the new Comcast Technology Center is the tallest building in Philadelphia, a glaringly optimistic slice of the city's rapidly evolving skyline. The Norman Foster-designed glass tower is home to futuristic office spaces for its eponymous tenant, a Four Seasons hotel, and corporate lobby art that, unusually for the genre, demands and rewards sustained attention…
MANIFOLDLY MULTILINGUAL: THE THEATER AND FILM OF CABORCA
Caborca is manifoldly multilingual. This Brooklyn-based theater company has its origins in Puerto Rico, where most of its members were born. In New York, their ranks swelled to include artists from the fifty states and beyond, meaning that the company's collaborations are complicated and enriched by the fact that its members grew up speaking different mother tongues. With The Entitlement, their first feature film, Caborca has demonstrated a facility with multiple artistic languages as well… (Full Article in THEATREFORUM 54)
SELF PORTRAITS IN OTHER COLORS
As it welcomes Zanele Muholi and the Women's Mobile Museum (WMM), The Pennsylvania Academy of Fine Arts (PAFA) expands the vocabulary of portraiture to include bodies and perspectives previously excluded from an art form historically aimed at further exalting the already exalted — among the portraits lining PAFA's permanent collection galleries are marble busts of distinguished statesmen, gilded-framed paintings of decorated military generals, and nude, alabaster-skinned goddesses from classical Greco-Roman mythology depicted in various states of luxurious repose…
As America's war in Afghanistan approaches it's sixteenth year, another president has fallen prey to the sunk-cost fallacy. Like Obama before him, Trump has been contemplating a new troop surge that, it is hoped, will somehow push the United States over the edge in this unwinnable war…
Choreographer Trajal Harrell began his acclaimed Twenty Looks or Paris is Burning at the Judson Church series with a question: "What would have happened in 1963 if someone from the voguing ball scene going on in Harlem had travelled downtown to perform alongside the early postmoderns at Judson Church?" His stagings of an imagined collision between these parallel traditions, one "high" culture, one "low," one white, one black, worlds apart though in fact separated by only a few Manhattan miles, were if nothing else provocatively novel. Until they weren't. Harrell milked this concept for nearly a decade, making versions in different "sizes," labeling them S, M, L, XL, etc., to appeal to the greatest possible variety of presenting organizations…
Five works by Lebanese live artist Tania El Khoury, collectively titled ear-whispered, are presented with Bryn Mawr College as a part of the 2018 Curated Fringe Festival. The works demand — and largely earn — extraordinary emotional, imaginative, and even corporeal engagement from spectators…
DEATH (AND DISMEMBERMENT) TO PATRIARCHY
The Final Girls Berlin Film Festival has christened its eclectic international showcase of feminist horror cinema by appropriating the perfect trope. In the horror film genre, the Final Girl is the last woman standing, the one who lives to tell the tale after watching her friends get tortured, eaten, incinerated, chopped up into little pieces, or what have you. She suffers. She is a screamer. ..
SWARM. A SUFFOCATING HISTORY AT PENNSYLVANIA ACADEMY OF THE FINE ARTS
In 2015, at the height of the European refugee crisis, Britain's then-Prime Minister David Cameron was widely criticized for warning of a "swarm of people coming across the Mediterranean." Donald Trump prefers to describe asylum-seekers and migrants in terms of "floods" and "flows" (or, occasionally, as "animals"), but the insidious effect of the rhetoric is the same. By metaphorically linking the refugee with plague and pestilence, such language strips its referents of human qualities, de-individuates, and incites xenophobic fear, historically a dangerously useful tool for right-wing politicians...
SOLO SHOPPING AT SOLOW FEST
A whimsical exercise in re-enchantment, the SoLow Fest's Aisle asks an audience of one to meditate on the mysteries of time, space, cheese, and scrapple, not necessarily in that order. Created and performed by I-Chia Chiu and Mason Rosenthal in supermarkets across Philadelphia, Aisle is at once guided tour, stealth operation, and metaphysical adventure...
FROWNING FACE WITH OPEN MOUTH
"The limits of my emoji are the limits of my world," or so the creators of Eraserhead 2.0 would have their audiences believe. Directed by Victoria Moyer and performed by Katharina Schmidt, this SoLow Fest show at Philly Improv Theater is a tryingly facile riff on Austrian philosopher Ludwig Wittgenstein's ideas about language, thought, and reality...
VANYAMACHINE: MALLORY CATLETT'S "THIS WAS THE END"
An assemblage of intriguing aesthetic strategies, what Mallory Catlett's This Was The End lacks in structure it makes up for in auratic power. Using Chekhov's Uncle Vanya as a pretext, Catlett and her crack team of designers and technicians have turned Mabou Mines' new space into a staging ground for an unusual memory play featuring authentic living and inanimate pieces of downtown performance history...
In Becoming a Specter, Daniel W. Coburn calls attention to the play of presence and absence that renders every photographic subject ghostly. One of the finalists of The Print Center's 92nd ANNUAL International Competition currently receiving a solo exhibition, Coburn composes images of human figures ambivalently merging with their landscapes. Eleven of the twelve untitled black-and-white photographs on display here feature bodies and faces on the threshold between visibility and invisibility, darkness and light, water and air. In the twelfth, a ball is suspended in midair as it bounces down an empty beach, kicked or tossed by some unseen entity—the trace is all that remains...
A pair of deceptively similar painters reveal the multiplicity of the monochrome with their very different abstract paintings, now on display at Larry Becker Contemporary Art. Joseph Marioni and Karen Baumeister are, on paper, unlikely candidates for a shared show...
THE MEDIUM AND THE MESSAGE
FringeArts opened Jaamil Olawale Kosoko's enthralling Séancers this week, an elaboration on themes explored in his 2016 #negrophobia. The piece is at once an essay, ritual, and performance of community. Aspiring to nothing less than finding an antidote to black erasure, Kosoko serves as the primary medium of this séance...
LIGHTBOX FILM CENTER HOSTS SUMPTUOUS PHILIPPE GARREL RETROSPECTIVE
Coinciding with its one year anniversary, the Lightbox Film Center devoted the month of April to hosting a retrospective of Nouveau Vague director Philippe Garrel's astonishing and underappreciated body of work. With an oeuvre spanning more than fifty years, it must surely have been difficult to select just a few highlights, but Lightbox assembled a truly resplendent and well-considered selection of rarely-seen gems...
DECOMPOSITION COMPOSITION
Site and subject make a happy match in Brian Sanders JUNK's Dancing Dead IPX, now running at South Philadelphia's Shiloh Baptist Church. Decrepit architecture appeals to our sense of romance in a way that decrepit bodies do not. Ruined or abandoned spaces, especially those once reserved for exalted purposes, conjure nostalgia, mystery, awe. Aged or otherwise wasted bodies, by contrast, call to mind our finitude and fragility, and they are nowhere to be seen in Sanders's latest. ..
ANGELS (AND DEMONS) OF HISTORY IN EGOPO'S LYDIE BREEZE TRILOGY
Philadelphia's EgoPo Classic Theater has given John Guare's sprawling Lydie Breeze trilogy an excellent first production as a single, marathon theatrical experience. Clocking in at ten and a half hours (with ample breaks), the trilogy spans over thirty years, following a group of friends from the waning days of the American Civil War to the brink of the new "American Century." Like her country, Lydie Breeze's titular heroine is both indomitable and deeply flawed; she destroys as much as she inspires, but the loyalty she commands is fierce. Director Lane Savadove masterfully balances the epic with the intimate in this sweeping story of American aspiration and self-fashioning...
DON'T SHOOT THE MESSENGER: ELFRIEDE JELINEK'S "RECHNITZ" IN NEW YORK
On March 24, 1945, there was a party in Rechnitz, an Austrian town on the Hungarian border. The hostess was Countess Margit Bátthyany, who may or may not have been having an affair with the town's Gestapo chief, Franz Podezin, a guest at the party. In what would be a prelude to the end of WWII, the Soviet Army was about to invade, but the Countess and her guests decided to have one last hurrah. During the party, Podezin received orders to pick up some 180 Jewish inmates of a nearby labor camp from the train station, prisoners deemed too sick or weak to work. Podezin interned them in the Countess's stables, and the well-heeled revelers shot them all and disposed of the bodies. The mass grave was never uncovered...
Oscillating between extremes, Pendulum offered an evening of short performance by four female choreographers: Zornitsa Stoyanova, Courtney Colón, Amy Lynne Barr, and Darcy Lyons. While each shares an interest in the body's relationship to the self, to others, and to the gaze, their styles are distinct, and their varying approaches complement one another in illuminating ways...
SO LONG, IT'S BEEN GOOD TO KNOW YOU
As Bread and Puppet Theater's The Basic Byebye Show ends, a pair of enormous papier-mâché angel's wings protruding from the edges of the diminutive proscenium begin beating. It's as if they might carry the stage and all it contains away to some more palatable and purifying paradise...
SADOCAPITALISM FROM BERLIN: THOMAS OSTERMEIER'S RETURNING TO REIMS
Best known in the US for the stunning exemplars of the German Regietheater tradition he regularly brings to New York, Thomas Ostermeier is a master of making classic texts speak to urgent contemporary social and political questions. In his 2015 version of Shakespeare's Richard III the deformed dictator is depicted as a crowd-pleasing, Trump-like raging id, a sick leader for a sick society. In his 2011 staging of Strindberg's Miss Julie the dangerously unequal relationship between a wealthy woman and her ambitious servant becomes an elastic metaphor for the perils of growing income inequality in the twenty-first century. His 2012 Enemy Of The People introduces novel features into Ibsen's famous town hall scene, interpolating text from contemporary writers opposing globalization and neoliberalism and opening the dramatic moment up into a frame-breaking debate on the state of contemporary capitalism, with spectators encouraged to vocally respond to the play's provocations and to square off against the performers and each other...
ELEGY FOR THE ANTHROPOCENE
Revolution Recovery is a waste management facility in Northeast Philadelphia. A field of tall grass and a chain-link fence divides the site from the Delaware River, the waterway to which this once-industrial city owes its existence. The river is still a major shipping and transportation conduit today, with crude oil making up about half of the cargo that floats down it each year...
MOVIE STAR-CROSSED: ADRIENNE KENNEDY'S HE BROUGHT HER HEART BACK IN A BOX
The explosively feminine theater of Adrienne Kennedy breaks many of the fundamental "rules" of drama, beginning with Aristotle's assertion that tragedy is "the imitation of an action." Kennedy's plays are cradled by an exquisitely receptive intelligence; hers is a not a dramaturgy of action but of punishing passivity. Major works like Funnyhouse of a Negro (1964), Lesson in Dead Language (1970), A Movie Star Has to Star in Black and White (1976), and now He Brought Her Heart Back in a Box absorb and reflect received images, attitudes, and templates of violence. Kennedy's characters are paralyzed, caught in the fact of irredeemable difference...
MONSTER MASHUP: MABOU MINES TAKES ON TENNESSEE WILLIAMS
The ghost of Mary Shelley keeps rudely interrupting Mabou Mines's Glass Guignol: The Brother And Sister Play, an exquisitely overstuffed assemblage of Tennessee Williams's texts about his troubled sister Rose. Shelley appears at the top of the piece as an empty dress, texting back and forth with her companion Lord Byron about misplaced playbills, initial impressions of the performers, and aesthetic theory. What we are about to see is an "essay play contrived of Readymades," she writes, alluding to Duchamp, "The Brother And Sister Play pretends there are such things as 'Literary Readymades.'" Her analysis is sound, instructive, and wholly unnecessary....
ROOM TO DREAM: THE THÉÂTRE DU SOLEIL AT THE PARK AVENUE ARMORY
If theater could save the world, it would no doubt do so under the exacting direction of Arianne Mnouchkine, who for more than fifty years has helmed the Théâtre du Soleil. This much and rightly acclaimed leftist French theater company operates out of the storied Cartoucherie, a former bullet-making factory on the outskirts of Paris where Mnouchkine also literally sleeps, eats, and breathes theater that is ferociously anti-war, anti-discrimination, and anti-capitalist. Her socialist principles inform both the organization of the company and the content of its individual productions, which in recent years have focused on the plight of refugees and asylum seekers. Brechtian hallmarks of her work include exposing the performers' dressing area, allowing spectators entering the auditorium to watch the make-up being applied and witness the warm-ups being conducted...
A LIVING MOCKERY: THE RIDICULOUS THEATRICAL COMPANY AT FIFTY
In 1967, not one but two productions of Charles Ludlam's deliciously demented Conquest Of The Universe Or When Queens Collide mounted by rival queer, avant-garde theater companies opened downtown in New York. What a time to be alive...
DAVID GREENSPAN DAZZLES IN ONE-MAN STRANGE INTERLUDE
After his one visit to the country in 1909, Sigmund Freud reportedly remarked to a friend that "America is a mistake; a gigantic mistake it is true, but none the less a mistake." The same could be said of Eugene O'Neill's 1928 Strange Interlude. A punishingly logorrheic six-hour melodrama about hereditary madness, soul-corroding jealousy, and misappropriated desire, Strange Interlude has no business being as thrilling as it is in the Transport Group's one-man version of this eight-character play, now running at Brooklyn's Irondale Theater Center. That it is redounds enormously to the credit of its star, the great David Greenspan, who here gives the performance of a lifetime already crowded with singular theatrical accomplishments...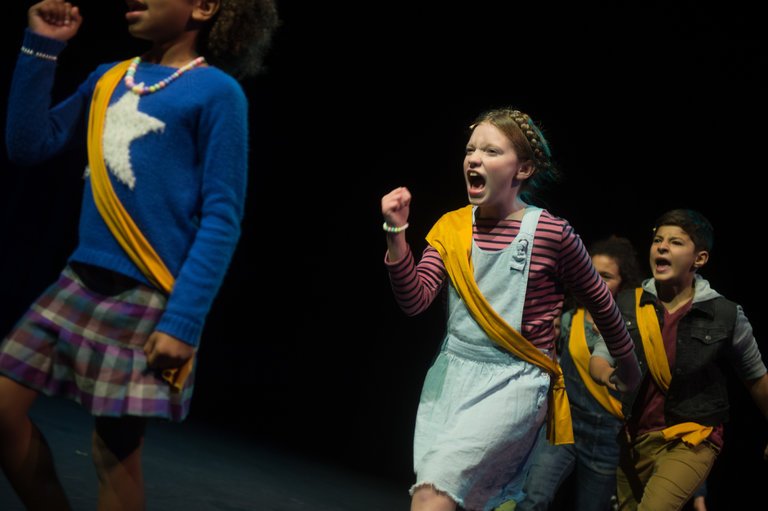 FUTURE SHOCK AT THE PHILADELPHIA FRINGE FESTIVAL
The Philadelphia Fringe Festival, now in its twenty-first year, has been gentrified. What began in 1997 as a loose network of scrappy local arts groups presenting sixty-odd pieces in Philadelphia's Old City district over five days has grown into a seventeen-day affair that imports international avant-garde superstars like Romeo Castellucci and Ivo van Hove to present curated productions in state-of-the-art, higher-capacity venues, while over a thousand uncurated performances now take place in basements and bars from Fishtown to Manayunk to Queen Village. As always, gentrification comes with certain tradeoffs...
"PITY IN HISTORY:" THE POTOMAC THEATRE PROJECT WRESTLES WITH HOWARD BARKER
Near the end of the Potomac Theatre Project's production of Pity in History, with England convulsed by Oliver Cromwell's Civil War, an aristocratic aesthete defends her collection of old masters from an approaching Puritan army out to destroy all "idolatrous" art. "We need great art," she declares, "We have to have art or we don't know who we are." Because they issue from the painted lips of Venables, a fine-boned nobleman's widow who mostly arabesques through a play otherwise peopled by lumberers, laborers, and rudely-accented foot soldiers of God, these words ring out with a special clarity and clean...
THE HOLOCAUST, SACRIFICED: NICHOLAS TOLKEIN'S "TEREZIN"
In taking it upon him or herself to depict the horrors of the Holocaust, the artist assumes an awesome responsibility and enters highly contested political and aesthetic territory. Certain German philosophers have suggested that Auschwitz brought about a crisis of representation, calling for a radical reassessment of the nature and purpose of art in our now-mutilated world. Scholarly debates on the subject often focus on how to honor the memory of those murdered by the Nazis without sentimentalizing, totalizing, or inappropriately proffering a narrative that involves redemption, and these debates (Shoah or Schindler's List?) have themselves been so popularized that they have become the stuff of date-night conversations on the popular television show Sex and the City...
MOURNING IN AMERICA: TARGET MARGIN BRINGS O'NEILL'S GHOSTS TO LIFE
Though regarded by many as the father of American drama, Eugene O'Neill correctly diagnosed himself when he wrote an authorial stand-in of sorts who, it is lamented in the play of this title, has only "a touch of the poet." He is the beneficiary of certain intimations of the great and profound mysteries of life, but is at the same time cursed by powers of language too limited to adequately express all that he knows and feels. O'Neill's plays are as a rule long, talky, and repetitive. He tends to put all of his ideas directly into the mouths of his characters, which makes for frequent incongruous and unlikely flashes of insight issuing from otherwise inarticulate and unreflective men and women whose working-class argot does not readily lend itself to high-flown philosophizing. Crude, excessive, and sentimental, as a writer he had much in common with his country, and it is probably safe to say that we will always cherish him for it...
PAST DUE: SARAH BENSON DIRECTS RICHARD MAXWELL'S "SAMARA"
In the closing moments of Richard Maxwell's Samara, the audience is plunged into near-total darkness. A low-creeping fog passes through what had been the playing space in a gesture that feels at once cleansing and indicative of a restless spirit on the move. We hear the gravelly voice of a man describing the night he had to explain to his young daughter what it means to die. The fog clears and the bare stage is illuminated in dozens of different aspects as the stage manager runs through all previous lighting cues in quick succession. The play doesn't simply end; it expires after a series of protracted final exhalations, a long letting-go that might seem excessive or indulgent if Samara were not itself an off-kilter allegory of ends and endings great and small, and of the ways in which we try to stave them off...
DAUGHTERS OF MISFORTUNE: GUILLERMO CALDERÓN'S "VILLA"
Trauma affects everyone differently. Survivors may become fragile or embittered, depressed or volatile or callused or numb. They may show no outward sign of inner injury at all. National trauma presents a special challenge because despite the incalculable diversity of responses to a country's collective nightmare, the state has a responsibility to memorialize painful events of the past in a way that honors the experiences of all of its citizens. Should a monument to atrocity conserve or replicate a disturbing historical site? Should it create an emotional experience or an intellectual one for visitors? To what extent should the wishes of those directly impacted by the event in question be taken into account? Finally, is art an appropriate way to help a people work through feelings of loss...
LOVE REVOLUTION: THE ASSEMBLY'S "HOME/SICK"
Commitment is hard.
Even within the well-defined parameters of traditional monogamy, balancing the demands of passion and pragmatism is seldom a straightforward proposition. Staying faithful and true, whether to a lover or an ideal, takes sacrifice and dedication. In Home/Sick, the Assembly's play about the Weather Underground's (mis)adventures in insurrection, commitments are tested and contested, and when love isn't merely tough it's lethal...
WOMEN ON THE VERGE: CARYL CHURCHILL'S "ESCAPED ALONE"
In an 1896 essay on "The Tragic in Daily Life," the Symbolist playwright Maurice Maeterlinck extols the virtues of the silence and stillness that typify his own static dramas, maintaining that ostentatious theatrical display only distracts from the subtle vibrations of authentic being. "I have grown to believe," he writes, "that an old man, seated in his armchair, waiting patiently, with his lamp beside him, giving unconscious ear to all the eternal laws that reign about his house, interpreting without comprehending… submitting with bent head to the presence of his soul and his destiny—an old man…motionless as he is, does yet live in reality a deeper, more human, and more universal life than the lover who strangles his mistress, the captain who conquers in battle or the husband who avenges his honor." Trade the old man for four women in their seventies, and this is a fine précis of the phenomenology of Caryl Churchill's captivating Escaped Alone...
DEATH ON THE RIALTO: WALLACE SHAWN'S "EVENING AT THE TALK HOUSE"
As goes the theater, so goes civilization. In Wallace Shawn's Evening at the Talk House the demise of this communal art form is imagined as symptom or cause (or both) of a decadent society's descent into atomization and barbarism.
Talk House takes place in the once-tony private club of the play's title, a favorite haunt of theater folk back when that endangered species roamed free. ..
THE THINGS WE CARRY: GEOFF SOBELLE'S "THE OBJECT LESSON"
"Do your things spark joy?" That (to some, risibly) simple question, and her runaway 2014 bestseller The Life-Changing Magic of Tidying Up, launched Marie Kondo's career as a world-renowned "decluttering" guru. According to Kondo, if no joy emanates from that old sweater of yours, that commemorative mug, that ashtray of grandma's that you've held on to for decades even though you don't smoke, it's high time to make a donation to the Goodwill. The enormous success of Kondo's book and the rest of America's eight billion dollar home organization industry suggests that we have a bit of a fraught relationship with our stuff...
CATCH AS CATCH CAN: "HOLDEN" AT THE NEW OHIO THEATRE
Reading J. D. Salinger's 1951 The Catcher in the Rye marks the moment in the lives of countless American teenagers when they first experience the uncanny, but existentially reassuring sensation of deeply identifying with a literary character. Freshly expelled from prep school, Holden Caulfield is staring down encroaching adulthood and doesn't like what he sees. At seventeen, he is a confirmed cynic. The world is full of "phonies" hiding their true depravity behind masks of smiling midcentury conformity, and he is the only one who can see it. Growing up means accepting at least some of the many distasteful compromises civilization requires, and to Holden the tradeoffs simply aren't worth it...
"CUT PIECE FOR PANTS SUIT" IN MADISON SQUARE PARK
Once every four years most Americans sheepishly admit to trusted friends of similar political persuasions that they do not entirely understand how the Electoral College works or why it continues to exist. As President Obama put it recently, "The Electoral College is a vestige," an artifact of the same experimental America that once felt it made sense for states like Wyoming (Population: .5 million) to have as much say as states like California (Population: 33 million) when it comes to matters of national and international importance such as determining whether avowed sexual predator Donald Trump should be the next leader of the once-so-called "free world." ...
CHEKHOV RESONATES: "THE HUMMM" AT DIXON PLACE
Chekhov's Three Sisters is distilled into vibration and iteration in The Hummm, a radical adaptation by a collective of artists led by director Kai Chieh Tu at Dixon Place, NYC.
The soundscapes of Chekhov's plays have presented particular challenges since Stanislavsky staged The Seagull at the Moscow Art Theatre in 1898. The playwright and director famously quarreled over whether or not the play was a comedy, and over Stanislavsky's insistence on overwhelming the play with "realistic" sound effects where Chekhov had asked for simplicity...
UNBOUNDED SOLILOQUY: WAJDI MOUAWAD'S "SEULS"
Lebanese-Canadian theater artist Wajdi Mouawad frames Seuls, his one-man show about the shoals of cultural assimilation, within the protracted adolescence that is graduate school. Harwan, his depressed and isolated protagonist, is thirty-five, devoid of nourishing personal relationships, and fifteen hundred pages into a doctoral dissertation on the concept of the "sociology of the imaginary" in the solo performances of his idol and fellow Québécois, the acclaimed theater director Robert Lepage...
JOSÉ RIVERA ADAPTS JEAN GENET'S "THE MAIDS"
Invoking the semi-mythological ancient Greek seer Epimenides in his introduction to the published text of Jean Genet's The Maids, Jean-Paul Sartre reminds us of the famous paradox of self-referentiality: "Epimenides says that Cretans are liars. But he is a Cretan. Therefore he lies. Therefore Cretans are not liars. Therefore, he speaks the truth. Therefore, Cretans are liars. Therefore, he lies, etc." As in Genet's plays, those theatrical halls of mirrors, Epimenides' paradox prompts a crisis of logic and a skepticism regarding appearances and knowledge...
KAREN FINLEY FOR PRESIDENT
The unicorn: a mythical creature so ferocious, so wild that it can only be tamed by a virgin pure of body and mind. Karen Finley is something of a unicorn. She has never encountered a virgin. Instead, over the course of a career spanning over thirty years, Finley has served as a projection screen for Americans' most outlandish fantasies and inchoate rage. It's no wonder she feels enough of an affinity with both Hillary Clinton and Donald Trump to ventriloquize them as compellingly as she does in her most recent performance piece Unicorn Gratitude Mystery, a provocative triptych combining Finley's singular talent for slippery polyphony with the human accouterments of the 2016 presidential election cycle...
ELFRIEDE JELINEK'S MELODRAMAS OF MULTIPLE EXPOSURE
Representations engender realities, ideology is representation, and our late-capitalist reality is modelled on melodrama. Elfriede Jelinek's project, which it is asserted evinces a 'melodramatic imagination' entails pointing out the strictly delineated space we occupy as subjects in our calcified ideological moment, exposing the violent conflicts underpinning existing social structures...
IMMANENT UTOPIA/UTOPIA IMMINENT: THOMAS HIRSCHHORN'S GRAMSCI MONUMENT
Thomas Hirschhorn's Monuments are works of art that demand new nomenclature. His Gramsci Monument in the South Bronx was at once physical structure and pure idea, community center and philosophical proposition, reality and dream. What does it take to build a utopia we can see, feel, and inhabit?
"OPHELIAMACHINE" TAKES ON INFLUENTIAL 20TH-CENTURY THEATRE WORK
Like Shakespeare, Heiner Müller was never terribly interested in what Ophelia had to say. In 1979 Müller, the (formerly East) German playwright and director who would inherit artistic directorship of Bertolt Brecht's Berliner Ensemble, composed Hamletmachine, a jagged assemblage of language planes, an adaptation less than ten pages in length, but so dense and so open to extreme directorial intervention that productions of the piece running up to twelve hours have been staged all over the world...
On Annie Dorsen's Magical at New York Live Arts.
CAN THE SUBALTERN PERFORM?
On Lilibeth Cuenca Rasmussen's Afghan Hound at the Venice Biennale.